CATEGORIES
LATEST NEWS
CONTACT US
ADD: FLAT/RM A17,9/F SILVERCORP INT'L TOWER 707+713 NATHAN RD MONGKOK KLN HONG KONG
TEL: +86-13737941709
FAX: +86-771-6759549
E-mail: Sarah@hhao-tech.com

> Absorbable Gelatin Sponge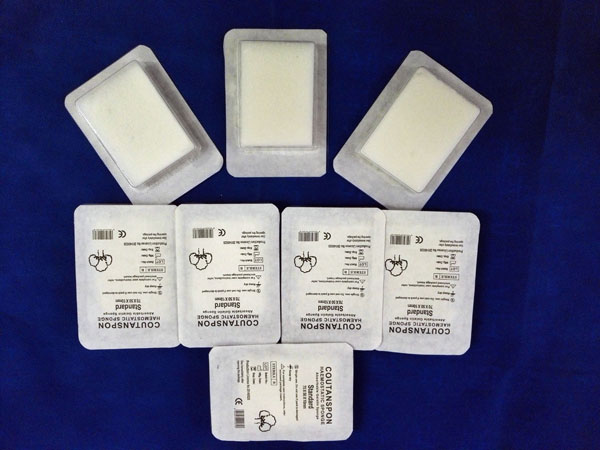 Absorbing gelatin hemostatic collagen sponge
Product description: Absorbing gelatin hemostatic collagen sponge ,manufacturers,equipment,supplies,prices,manufacturing,purchasing,components
PRODUCT INTRODUCTION
Absorbing gelatin hemostatic collagen sponge
Medical absorbing gelatin hemostatic collagen sponge is White, pliable, light & insoluble in water it is capable of absorbing approximately forty times its weight of well-agitated oxalated whole blood or fifty times of water
When applied to bleeding surface in amounts sufficient to cover the area it rapidly controls capillary and venous bleeding, forming a stable adherent coagulum. It can also be used in surgery of the larger vessels upon application of the proper surgical techniques
When left is situ controls recurrent hemorrhages without causing foreign body reactions
Favours the process of tissue and when implanted in tissue is completely absorbed in 3-6 weeks, depending upon the quantity used and the type of tissue in which it is placed. It leaves only a slight amount of scar tissue
Is compatible with antibodies. When desired the sponge may be immersed in aqueous solutions of penicillin or streptomycin
Haemostatic action of the sponge is dependent upon its proteins and physical properties. In those cases where the amounts of prothrombinnoid are sufficient, the absorbable gelatin sponge should be moistened with sterile thrombin solution
Useful in Dental Surgery, Malingnancy, Abdominal Surgery, Orthopedic Surgery, Neuro Surgery, Genito-Urinary Surgery, Anorectal Surgery, Gynecologic Surgery, Otolaryngological Surgery.
Size can be made according to your requirements,we can do OEM for you.
[Specification] A: 70mm ×50mm × 10mm & 80mm ×50mm × 10mm
[Sterilization] Sterilization is valid for three years. Please refer to validity on the product package or aluminum foil package.