CATEGORIES
LATEST NEWS
CONTACT US
ADD: FLAT/RM A17,9/F SILVERCORP INT'L TOWER 707+713 NATHAN RD MONGKOK KLN HONG KONG
TEL: +86-13737941709
FAX: +86-771-6759549
E-mail: Sarah@hhao-tech.com

> MRI anesthesia machine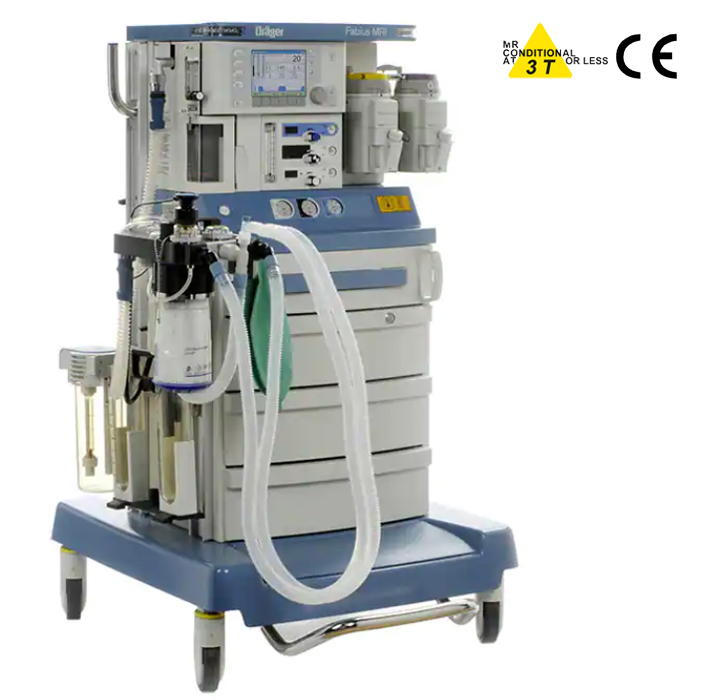 MRI anesthesia machine for 1.5T and 3.0T MR system
Model: Fabious MRI
Origin: Germany
Brand: Drager
Usage ondition: New
Product description: MRI anesthesia machine for 1.5T and 3.0T MR system
PRODUCT INTRODUCTION
The Fabius MRI anesthesia machine features our precision E-Vent piston ventilator technology, renowned for both performance and safety. It has been tested for use with MRI systems of 1.5 and 3 Tesla and can be safely operated at field strengths of 40 mtesla (400 gauss). From within the MRI suite, it's capable of exporting the clinical data you need for complete and accurate anesthesia records. Its user interface, common to Dräger workstations, enables seamless transition from the OR.

Fully certified for MRI
Specifically designed for use in magnetic environments, the Dräger Fabius® MRI is certified for field strengths of up to 40 mTesla or 400 Gauss. This provides reliable ventilation with 1.5 and even 3 Tesla MRI systems.
Broad range of therapy modes
The Fabius® MRI gives you access to a broad range of ventilation modes - including volume, pressure, pressure support and SIMV/PS - providing a maximum level of respiratory care regardless of the patient acuity level.
The Fabius MRI is equipped with highly visible repeater LED optical alarms that alert caregivers in the central station to changing patient conditions.
The Dräger Fabius® MRI incorporates a servo-controlled, piston ventilator that requires no drive gas. The piston is capable of delivering higher inspiratory flows than the traditional bellows ventilator, and provides a more accurate volume delivery.
Compact design, intelligent ergonomics
The Fabius MRI has a compact breathing system, COSY 2.6 which can be mounted on the left or right hand side of the unit, depending on the room layout. Mounted on a short, 8" arm to provide positioning flexibility, it simplifies use in an often cramped MRI environment. The Fabius MRI also gives you the option of using the Dräger CLIC disposable soda lime absorber canister for an easy dust-free soda lime canister exchange.
Standard operating philosophy
Because it uses Dräger's uniform user interface, Fabius MRI is quick and easy to learn. All relevant information is displayed on a single, high resolution LCD color screen (6.5 inch diagonal).