Why hospital need MRI compatible product?
As we all know that MRI diagnosis devices ( mainly MRI machine) are expensive, high level and need special security procedures. MRI machine has very strong magnetic field and there is no proven health risk on living organisms. However, if medical stuff or patients didn't notice or pay attention to the MRI security rules, it will occure big injury or loss life or big damage on MR machine which will cause very expensive maintenance cost.
Going in to the MRI room with NON-MRI COMPATIBLE products especially Ferromagnetic(having a high susceptibility to magnetization) like iron, nickel, cobalt and their alloys might cause serious, even deadly accidents for the patient and staff.
The worldwide researches shows the injuries and deaths were occured due to the compliance issue with safety regulations.
Cardiac pacemakers, cardiac defibrillators, metallic heart valve prostheses, hearing aids, middle ear cannulas and all neurostimulator devices, those with aneurysm clamps, bone stimulators and electronic drug pumps, catheters and vascular stent implants, all kinds of devices and articles made of metal Mobile phones, credit cards, watches, buckles, metal fragments and other electronic devices are not allowed to to be taken into the scanning room.
While in many conditions, if patients is weakly ill or disabled or can not walk by themselves, they do need support of like gas support, MR wheelchairs support or MR stretcher trolley, MR stool support during the examination. That's why the MRI compatible products are needed.
We, HHAO MEDI, a professional MRI room accessories manufacturer in China, vendor of GE, PHILIPS, SIEMENS, TOSHIBA, CANON, HITACHI, UNITED IMAGING, NUESOFT etc in China, aimed to offer one stop solution service to your MRI compatible product need!
Below are our MRI compatible products packages for your review:
MRI room accessories package 1: MRI infusion pump work station, MRI Anaesthesia machine, MRI compatible dual head high pressure injector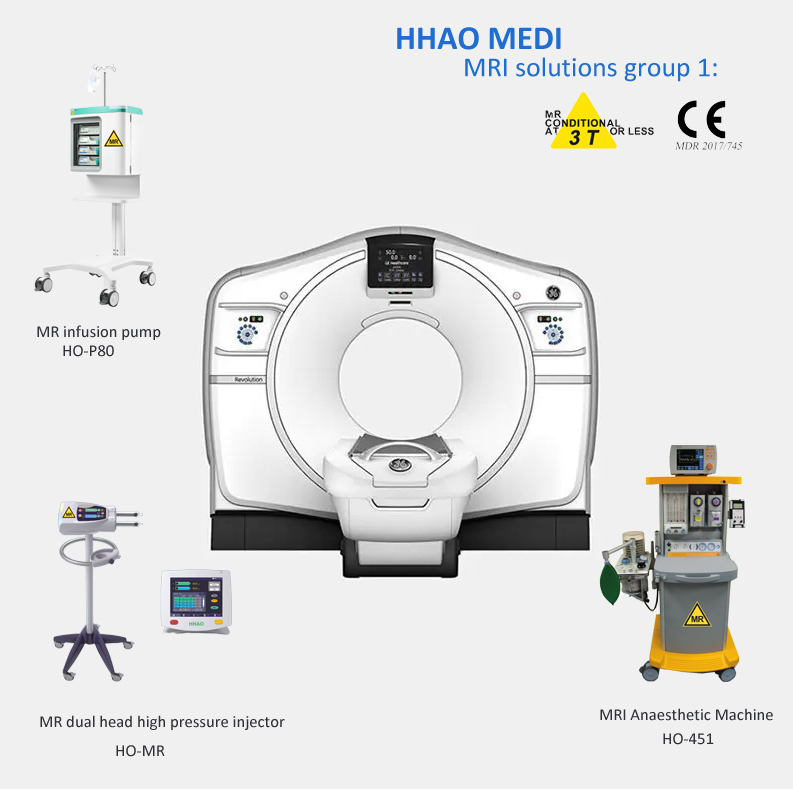 MRI room accessories package 2: MRI compatible wheelchair + MRI compatible stretcher trolley ( height adjustable type, height fixed type)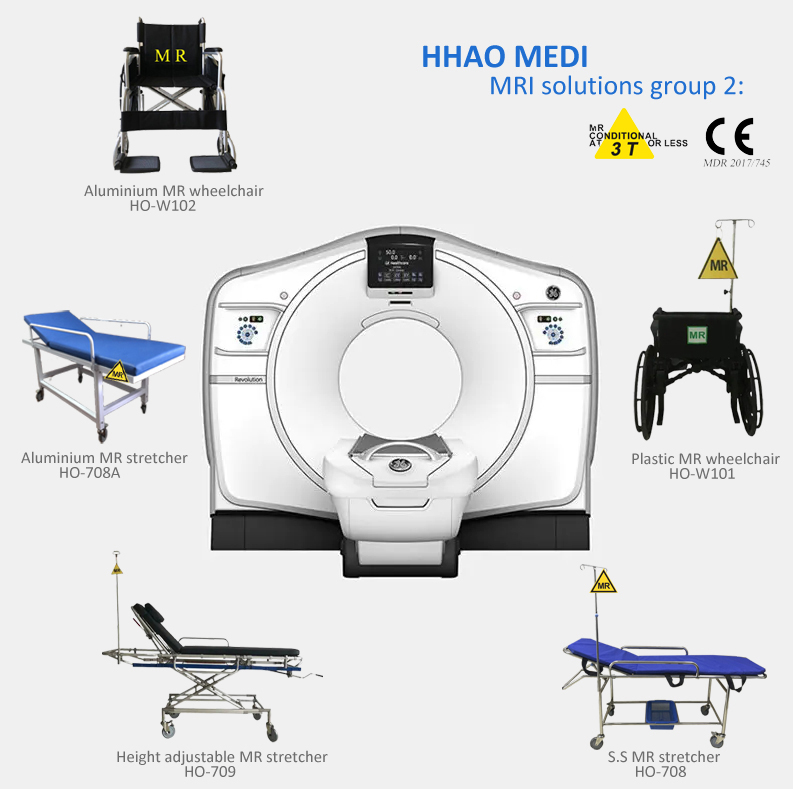 MRI room accessories package 3: MRI compatible fire extinguisher, MRI compatible instrument trolley, MRI compatible emergency trolley, MRI compatible oxygen cylinder, MRI oxygen flow meter, MRI oxygen regulator, MRI oxygen cylinder cart, MRI compatible mobile I.V stand, hand held metal detector.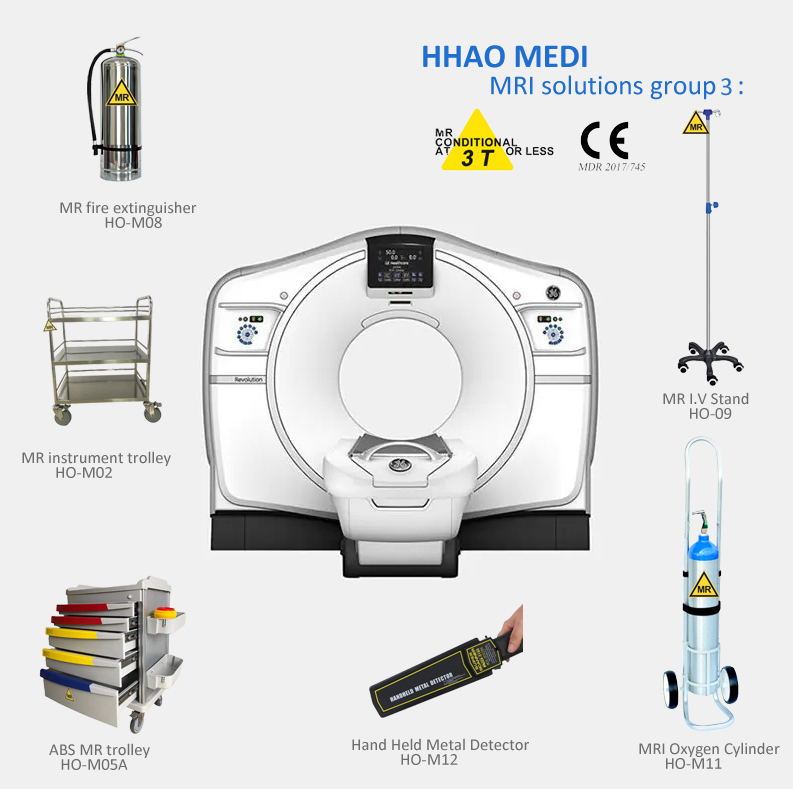 MRI room accessories package 4: MRI compatible transfer board, MRI compatible emergency trolley, MRI doule step stool, MRI stool with hand rail, MRI compatible mobile I.V stand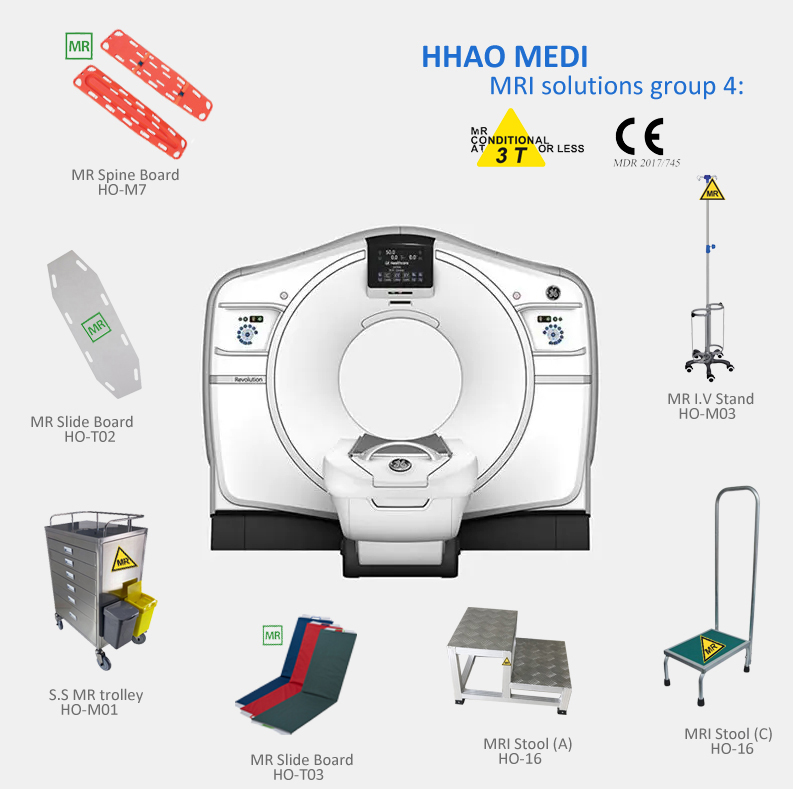 MRI room accessories package 5: MRI oil, MRI sliding board, MRI stool, MRI coil transport trolley