Standard wheelchairs are made of metal, which can not be used in strong magnetic field of the MRI scanner. They will become flying missiles when use them in MR room.
Below photo is medical accident caused by normal metal wheelchair: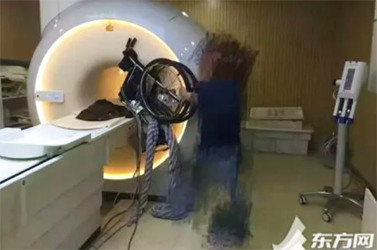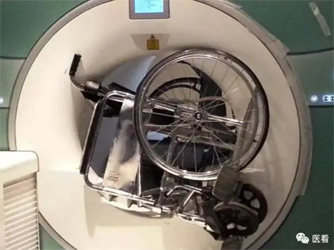 NO MR wheelchair condition:
The patients who couldn't walk into the scanning room were generally transferred onto a MRI compatible trolley. This is time-consuming and cumbersome for patients. Also it has lots of job for nurse stuffs, delay the treatment time.
With MR wheelchair condition:
While MRI compatible wheelchair can solves above mentioned problems properly.
MRI compatible wheelchair can make it easier for all patients to have a MRI scan. It mainly has
4 FOUR advantages:
1, It can speed up the transfer of patients and save time! For example, one hospital used to help 20 patients for MR scanner per day. With MR wheelchair, hospital can help 25 to 30 patients per day.
2, It can improve the service to patients. If it uses a MR stretcher, it will need at least 2 medical stuff or family members to take care of the patient. With MR wheelchair, only one stuff is fine. And it saves much time for stuff , stuff can offer more care for the patient.
3, It can afford dignity to patients.
4, Most importantly, it can avoid medical accidents in MR room. It occurred that patients were killed by metal wheelchairs in MR rooms in the past years, which were sad stories for both patients and hospitals.
HHAO MEDI has 2 type MRI compatible wheelchairs. One type is plastic MR wheelchair, it has tested by 7.0 Tesla MR system, another type is aluminum type MRI compatible wheelchair, fully tested by 3.0 Tesla MR system. All MR wheelchairs are CE certified, with CE certificate, MRI compatibility test report and Free Sales Certificate.
Should you have any questions or inquiries for MR compatible wheelchairs, please email us or call us freely.
Manufacturer info:
Nanning Hhao Technology Co., Ltd / HHAO MEDI CO., LIMITED
Guodian Zhineng Building, No.10 West Keyuan Road, Xixiangtang District,
Nanning, Guangxi, China
www.hhao-tech.com Hhaosale@163.com