Sarcomas, latest developments in diagnosis and treatment
By Dr Robin L. Jones, MD
What are sarcomas?
Sarcomas are rare tumours of connective tissue, and as a result they can affect any part of the body. These are tumours of fat, nerves, bone, tendons, muscle and skin. They account for about 1% of all adult cancers and approximately 15% of paediatric tumours. In addition to the wide distribution of potential primary sites and the rarity, these are also very heterogeneous tumours with over 80 different histological subtypes.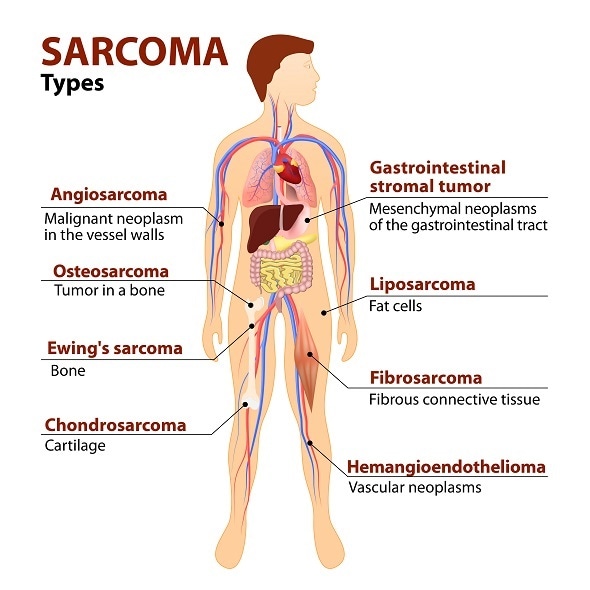 A sarcoma is a cancer. Sarcoma - malignant tumors made of cancellous bone, cartilage, fat, muscle, vascular, and tissues. © Designua / Shutterstock.com
These 3 factors make sarcomas extremely challenging to treat. Consequently, it is very important that sarcoma patients are managed by an experienced multi-disciplinary team, including surgeons, pathologists, radiologists, oncologists, specialist nurses, physiotherapists and pharmacists.
Diagnosis
In order to make the diagnosis a biopsy is required to confirm the presence of a sarcoma and the specific subtype. Because these tumours are so rare and heterogeneous it is essential that an experienced pathologist reviews the biopsy sample. Initial diagnostic radiology tests can include a CT and MRI scan depending on the location and type of sarcoma.
Treatment
The mainstay of treatment of localised sarcomas includes complete surgical removal with or without radiation. It is important that an experienced surgeon performs surgery as improperly performed surgery can have an impact on outcome.
Large randomised trials have demonstrated the benefit of pre- or post-operative radiation in extremity and chest wall sarcomas. A current international randomized trial is evaluating the role of pre-operative radiation in retroperitoneal sarcomas.
In certain sarcoma subtypes, multi-agent chemotherapy is an essential component of curative management; such subtypes include Ewing, osteosarcoma and rhabdomyosarcoma. The introduction of multi-agent chemotherapy for these subtypes and the use of limb-salvage surgery have been among the great success stories of oncology over the last four decades.
Prognosis
Unfortunately, despite optimal management with complete surgical resection, about 50% of patients with intermediate/high grade sarcoma develop recurrent/metastatic disease. Metastatic spread is usually via the blood, and the lungs are the most common site of metastatic disease.
The outcome for patients with metastatic sarcoma has historically been poor with few treatment options. However, recent data suggest that the median overall survival of patients with metastatic soft tissue sarcoma has improved from approximately 12 months to currently 18 months. There are also now more systemic therapy options available for patients with metastatic sarcoma.
For patients with an indolent histological subtype, surveillance of small volume/asymptomatic metastatic disease can be an option. Surgical resection can also be considered for patients with solitary metastatic lesions, particularly in the lungs. Other local treatment strategies can also be considered including radiation, radiofrequency ablation and embolisation techniques.
Decisions regarding the management of metastatic disease can be complex, again highlighting the need for an experienced multi-disciplinary team. For most patients with metastatic sarcoma the mainstay of management is systemic therapy, mainly chemotherapy.
Targeted therapy
The introduction of targeted therapy (imatinib, sunitinib and regorafenib) in a soft tissue sarcoma subtype called gastro intestinal stromal tumour (GIST), has been the paradigm for targeted therapy in solid tumours.
The majority of GISTs are characterised by mutations in KIT and PDGFRA. As a result of the introduction of these tyrosine kinase inhibitors the outcome for patients with metastatic GIST has been transformed.
In addition, imatinib has been approved as post-operative therapy in patients following resection of high risk tumours. Imatinib has also been successful in the treatment of another sarcoma subtype called dermatofibrosarcoma protuberans (DFSP).
Doxorubicin either alone or in combination with ifosfamide remains standard first-line therapy for metastatic soft tissue sarcoma. The results of three international Phase III trials have been published or presented over the last few years.
The first trial randomised patients to receive either doxorubicin or doxorubicin and ifosfamide. This trial reported no difference in overall survival between the two arms, but patients treated with the combination had significantly longer progression free survival and a significantly higher response rate.
The second trial randomized patients to receive either, doxorubicin and the ifosfamide analogue (palifosfamide) or doxorubicin plus placebo. This trial showed no difference in outcome between the two arms. The third trial randomized patients to receive either, single agent doxorubicin or gemcitabine/ docetaxel. No difference in outcome was observed between the two arms.
Furthermore, a randomized trial comparing gemcitabine/ docetaxel to gemcitabine alone established the combination as an effective salvage schedule particularly in leiomyosarcoma and undifferentiated pleomorphic sarcoma.
In 2007 the marine derived compound, trabectedin was approved in the European Union based on the results of a randomized Phase II trial of two different schedules of the drug. Subsequently, a Phase III trial was performed randomizing patients with advanced/ metastatic liposarcoma and leiomyosarcoma to receive either trabectedin or dacarbazine, (patients entered had previously been treated with an anthracycline and one other therapy).
This trial showed a significantly longer progression free survival in patients treated with trabectedin compared to dacarbazine. This led to the approval of trabectedin by the FDA in November 2015.
The oral tyrosine kinase inhibitor pazopanib has been approved based on the results of a trial randomizing soft tissue sarcoma patients to receive pazopanib or placebo. The trial demonstrated a significant improvement in PFS for pazopanib but no difference in overall survival.
In 2016, the marine derived micro tubule inhibitor, eribulin was approved by the FDA for advanced liposarcoma, based on a Phase III trial randomizing patients with advanced/ metastatic liposarcoma and leiomyosarcoma to receive eribulin or dacrabzine. The trial showed a significantly longer overall survival in the eribulin arm compared to dacarbzaine.
Conclusion
In conclusion, sarcomas are a rare group of heterogeneous cancers, presenting huge challenges in terms of management and drug development. The introduction of tyrosine kinase in GIST has been the paradigm of targeted therapy in solid tumours.
In addition, over the last few years a number of new systemic agents have been added to the available treatment options of advanced disease, including pazopanib, trabectedin and eribulin. With greater international collaboration between clinical researchers and basic scientists, further advances with be made in the management of these heterogeneous diseases.
About Dr Robin L. Jones, MD
Dr Jones has both a private and an NHS practice at The Royal Marsden. He is a medical oncologist specialising in the treatment of bone and soft tissue sarcomas and Head of the Sarcoma Unit at The Royal Marsden.
He has experience in conducting Phase I, II and III trials, as well translational studies in sarcoma. Dr Jones trained in medical oncology at The Royal Marsden and between 2010 and 2014 he was Head of the Sarcoma Program at the University of Washington / Fred Hutchinson Cancer Research Center in Seattle.
His main research interest focuses on clinical trials of novel agents and immunotherapy in sarcoma.
---
Disclaimer: This article has not been subjected to peer review and is presented as the personal views of a qualified expert in the subject in accordance with the general terms and condition of use of the News-Medical.Net website.
Last Updated: Apr 22, 2016