Creating reference standards for cannabis testing: an interview with Adam Ross
insights from industryAdam RossKey Account Manager and Organic Specialist
LGC Standards
Interview conducted by April Cashin-Garbutt, MA (Cantab)
What are the main applications of cannabis testing and why are reference standards required?
The main applications for cannabis testing is to ensure that the product produced, whether the flower itself, tinctures, edibles, etc. contain acceptable levels of approved pesticide or other residues leftover from the growing or processing process.
A reference standard is required to be used as a measurement base for the compounds of concern. When a sample is given to the lab the residue levels are unknown and a reference standard provides a certified calibrated level of the target compounds against which the sample can be compared.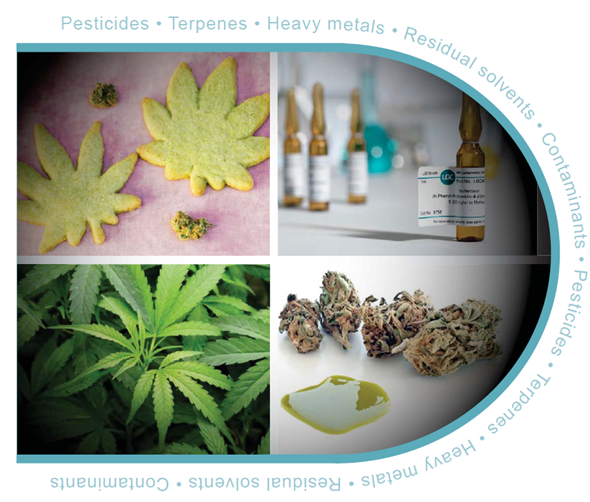 Can you please give an overview of the changing marijuana regulations across the US?
The issue now is that there is no continuity across states regarding regulations of residues contained in cannabis. As the markets grow so do the regulations, or at least they should, to ensure the safe consumption of medicinal cannabis or recreational cannabis.
Most of the regulations currently are vague at best and leave the consumer at risk. Imagine if each state or the federal government was not closely regulating the fruit or vegetables in your refrigerator, you'd be left with a potentially dangerous food source and wouldn't even know it.
Some states that have legalized cannabis in one way or another do so before setting forth strict guidelines as to what can be used in the growing and processing of the cannabis plant and what the final acceptable limits are for each compound.
Without concrete regulations labs and consumers are left to guess what they are actually consuming. States have now finally begun the process of setting forth rules and regulations as the FDA or USDA would federally, but they vary state by state and do leave room for some interpretation.
What challenges do the changing regulations pose for creating reference standards for cannabis testing?
The challenges faced by reference standards companies is that once a product is created a whole new set of "regulations," could be passed at any moment in each state with legalized cannabis, rendering the current standards obsolete in many instances.
This requires constant work by us to keep with the lawmaker's changes and then creating new high quality products quickly to fit the ever changing landscape to again ensure all laws are being followed and the consumer is safe.
How do LGC overcome these challenges?
To overcome these challenges we have to constantly monitor each states' regulations. We use resources from State websites, cannabis industry publications, contact with individuals involved in creating the regulations and creating partnerships with people in the industry to create products that fit the industry's ever changing needs.
Luckily, we have a strong "custom mixture program," that allows us to create new ISO guide 34 certified mixes at a rapid rate to keep up with the changing regulations and needs of our client laboratories.
What do you think the future holds for cannabis testing and what does this mean for reference standards?
The future is bright! As more and more states legalize cannabis there will more of a need for continuity of regulations across state lines.
The DEA has announced their consideration of rescheduling cannabis as a class II controlled substance (as they have before), which will open many new doors into research of cannabis and cannabis related products. This in turn will create a need for laboratories to obtain quality reference materials for their day to day testing.
This will also make it much easier to obtain the pure substances to create reliable reference materials for currently controlled (class I) compounds found in the cannabis plant.
Where can readers find more information?
Readers can find out more information about LGC and its reference standards through our website lgcstandards.com.
About Adam Ross
Adam Ross is responsible for sales and product support and development for the Food and Environmental product line at LGC. He joined the team in 2014 and was tasked with managing a new product line (Dr Ehrenstorfer) that produces over 8,000 organic chemicals for residue analysis. While dealing with a large array of products Adam was also responsible for creating many products for crowded business sectors such as environmental, food and oil & gas analysis.
During his work in the field Adam realized that there was a under regulated emerging market in cannabis.
The research and development of cannabis specific standards is an ongoing and seemingly endless process, as more states legalize medicinal and recreational marijuana. Adam has made this a top product development priority. Marijuana is being used by many severely ill patients, with weakened immune systems and exposure to any chemical could cause irreparable damage. Even if marijuana is being used recreationally the user shouldn't have to worry about any contaminants in their chosen method of administration. Almost everything you see and touch has been tested at one point or another for organic and inorganic residues that have been deemed harmful by government agencies. The Cannabis industry should be no different.
Adam is committed to keep building on the knowledge he has gained working in other business sectors and applying them to the cannabis industry to make it safe for all users. Adams goal is to keep current with the ever changing regulations through being involved in industry events, working with consultants and growers in the field and helping develop new and improved testing standards and method development to be sure that no one will be made ill by their medical or recreational use.